RGS #100 will be based upon the WP&Y 100 class of Alco-built locomotives. They are Co-Co wheel arrangement (3 axle trucks) instead of my Bo-Bo (2 axle trucks) but I am only wanting to use these locomotives as a basis for my biggest diesel.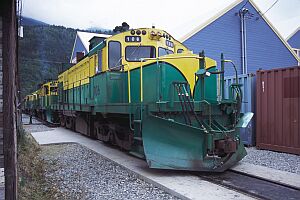 RGS #11 when it arrived was orange and did not have a headlight any longer.

This is the pile of frames at the barn. On top if the diesel locomotive's frame and engine bed. Under the locomotive is the steel frames for 5 new narrow gauge rail cars. These are set up to be wrapped in wood so they appear to be wooden cars but will be STRONG steel (and heavier) cars. The shorter frame will become a flat car to use with the #10 switch engine as the engineer's car as well as a general use flat which is handy for track building. The longer frames are going to be built into RGS (long) caboose 0404, box car (no number yet) and two flats (also not numbered yet.) These cars will require their trucks and couplers and I plan on using Rolls Models as the supplier for these as well as Mountain Car Company for the supplier of the brake systems (which will have to be altered for the larger car trucks.) I will also alter the brake cylinders for dual action air brakes to give these cars automatic air brakes.

The #100 diesel will be built similar to the White Pass and Yukon's hood diesels (as shown above) and will be powered with a large gasoline engine and the Eaton 11 hydraulic transmission. I have been looking at how to transmit the power to the axles and decided on using a smaller axle closer to the bolster which I can put the gear box on and a smaller gear set to transmit power to the chains connecting the wheels. That way the axles on the trucks do not need to be modified and having the gear box closer to the center bearings of the trucks, there would be less side-to-side motion in the drive lines.
Here the trucks for the #100, spare battery and motor for the #11 were waiting to be moved. The battery was used on the powered switches for the railroad's switchback and the other parts stored until later.